Services
Scenic Elements
Design
Fabrication
Assembly
A Tuscan-Style Vision
Paragon Fabrication was commissioned by Grooms to design and fabricate multiple pieces for The Breast Center of the Ozarks, including a custom reception desk, wall art, a fireplace for the reception area, and a bench for the waiting area. The project involved utilizing 3D models to explore different designs and materials that fit the Tuscan theme requested by the client.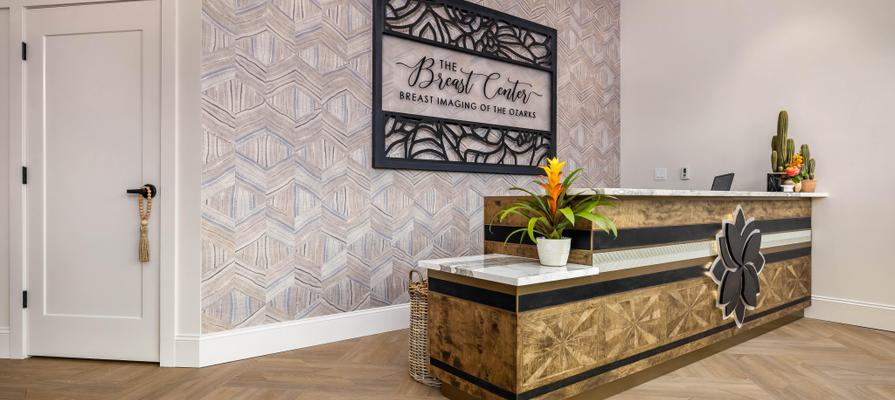 "When you have a great partner, you get things done right and it's worth it. The end result was exceptional."
Custom Reception Desk and Wall Art
The reception desk was designed to resemble a found piece of furniture rather than a purchased office desk. It incorporated various materials such as chevron tile, aged metal, different types of wood, leather, and stone. The front of the desk features the Breast Center logo created out of acrylic and wood, and halo lit with LEDs. The desktop was crafted out of Cambria quartz.
For the wall art, a large 6.5'x4.5' piece was created out of powder coated aluminum and acrylic, mimicking a Tuscan inspired wallpaper pattern chosen by the client. The lettering was laser carved and mounted on frosted acrylic to stand out against the chevron wallpaper design.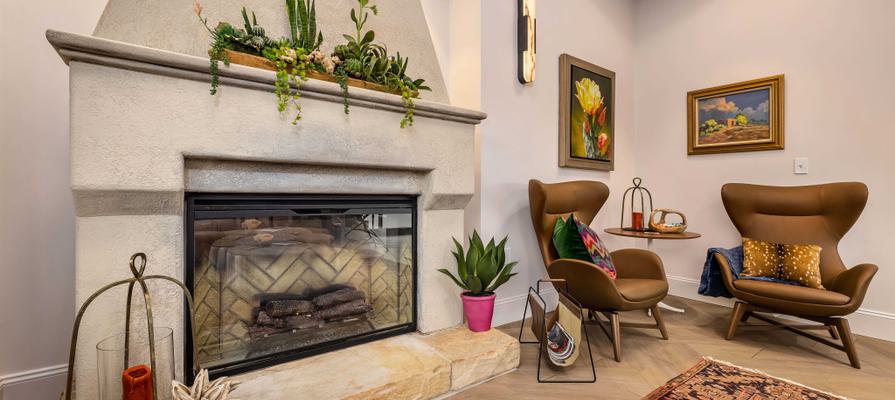 Fireplace and Bench Installation
In the waiting area, the client wanted a Tuscan-inspired fireplace. Paragon Fabrication created the fireplace surround, mantle and over mantle in the fabrication shop, and installed on-site around the electric and support framing. The surround, mantle and over mantle were made out of wood framing and high-density foam, painted and aged to match the interior design aesthetic. The surround and flue were created in separate pieces to accommodate the installation process. Once in place on-site, the joints were mudded and the paint was touched up, with added fake smoke soot to age the look of the fireplace.
Additionally, a small bench was created just outside of the changing rooms, with similar construction and finish to the fireplace, made out of wood frame and high-density foam to match the mud work of the fireplace.